A hybrid bike is a versatile choice that incorporates the best attributes of street bikes and mountain bikes. However, not all bikes are built equally. Some come with very versatile features, while others may lack some elements. Their prices also differ greatly. So, to help you find the best hybrid bike with your tight budget, here are the best hybrid bikes under 300 dollars.
So before we begin listing our top pick for the best hybrid bikes under $300, we would like to give you a small overview of what a hybrid bike is.
What is a Hybrid Bike?
Basically, hybrid bikes are a combination or mixture of specialized road bikes and mountain bikes. The end result is a bicycle that is suitable for general-purpose riding over various types of terrain. Be it for recreational purposes or for the sake of one's health; hybrid bikes are fitting choice for men, women, and children.
Well to sum it up, the best features of both road bikes and mountain bikes are combined in only one bike is what called a Hybrid bike.
Reviews of Top 7 Best Hybrid Bikes Under $300
1. Schwinn Discover Hybrid Bike
The Schwinn Discover is an inexpensive bike that is easy to set up and operate as well as comfortable to ride. It's a perfect choice for making trips through the park and for your daily commute.
This hybrid bike comes with a durable and lightweight alloy frame even with this low price tag. Schwinn suspension fork provides comfort when riding over rough terrains, making this hybrid a versatile choice for the adventurous city rider. The wheels are a combination of moderate V rims and fairly wide tires. There is a suspension fork that does less for handling off-road riding and more for softening bumps.
The gear of this hybrid is controlled by the SRAM grip shifters and base level derailleurs. This bike comes with a basic drivetrain, however, it is effective. And you also get 21 speeds at your limit, which makes pedaling up a hill much easier.
Linear pull brakes are brake cables that run straight from the brakes to the handles. The alloy material used on these brake cables is designed for effective and long-lasting braking, making this bike safer on the road.
The Schwinn Discover hybrid features a swept-back upright handlebar that makes riding position very upright and comfortable.
And to add more to your comfort it includes a suspension seat post and a comfortable padded seat. This will definitely provide extra comfort for you while you ride. This bike also has an integrated bike rack and front and rear fenders that will keep the dirt away from the rider.
The Schwinn Discover is an inexpensive and comfortable ride and it comes with frames for both men and women.
Pros
Seat post suspension
Inexpensive price tag
Swept back handlebar
Front and rear fenders and a bike rack
Moveable stem
Cons
Not the highest quality components
2. Retrospec Venus Dutch Step-Thru City Comfort Hybrid Bike
Our Pick
The Retrospec Venus Hybrid Bike is quite out of this world with its unique and amazing features that aren't very common in the world of bikes.
This bike has been designed keeping in mind comfort, long term use, and is particularly constructed for overuse. The bike comes with a shock absorbing steel frame which offers an extremely flawless bike ride. It also makes the bike super resilient and strong in the face of dangerous road and weather conditions.
The sturdy Kenda commuter tires roll out effortlessly on flat or difficult road pavements. These tires come with water dispersion grooves which make way for water through the course of traveling. They are also punctured resistant which guarantees reliability as well as long-term use.
The Venus-7 allows the riders to ride in different styles. It features the Shimano Altus seven-speed drivetrain which is ideal for extensive distances and provides flexibility across a wider range of terrains.
The braking system is equipped with front and rear caliper brakes which help you get precision and greater control over how the bike runs.
The bike features vintage inspired metal fenders and they are great for traveling. And to add more versatility to the bike, it sports an already installed rear rack. The bike also comes with cushy grips and a comfy saddle for comfortable riding experience.
Not only does this bike run exceptionally well but it also looks beautiful, it is by far one of the prettiest things on this list. It can be purchased in three colors – black, coral, and mint. It's quite a retro bike that drips with style and charm. It also comes with very few and extremely minor drawbacks which are surpassed by the extraordinary and incomparable features of the bike.
Pros
Absorbs shock greatly
Mounting and dismounting is easier
Offers improved riding versatility
Easy assembling and functioning
Ensure safety
Cons
Uncomfortable seat
Fenders become dislodged
Poor quality headlight
3. Schwinn Network Hybrid Bike
Schwinn Network is a great bike that has so much to offer. It is one of the best mens hybrid bikes under 300. The bike features an alloy hybrid frame which makes it strong and lightweight. And the suspension fork makes your rides smooth. It is a perfect choice for riding down the bike path, neighborhood, or on your morning commute.
This bike provides precise gear changing with the Shimano rear derailleur and the Shimano EZ Fire 21-speed shifters. And when it comes to controlling, the bike delivers exceptional stopping power with alloy linear pull brakes.
The Schwinn hybrid elastomer spring saddle helps you be comfortable during long rides. And to add more to your comfort, the seat has a suspension seat post that makes your riding smooth even on the rough terrains. During rides, your hands also stay comfortable because of the ergonomic grips that add extra comfort at contact points.
Its 700x48c tires will not disappoint you in rough terrains that are in relatively good conditions. Plus, the alloy high-rise rims add strength without weighing you down. This bike also comes with an alloy hi-rise stem and swept-back handlebar that allows you to easily ride in an upright riding position.
This is a great bike for beginners and all of these features work together to provide you a smooth ride on a variety of terrains.
Pros
Super lightweight, strong and highly durable alloy rims
Extra padding on the saddle
Highly versatile, nimble and speedy
21-speeds
Moveable handlebar post
Cons
Needs assembling and tuning
4. Vilano Hybrid Bike 7 Speed
This vilano bike is a retro-style, classic hybrid designed to inspire confidence in beginners. It is a versatile bike packed with features that deliver good value for the money. If you are looking for a low-maintenance bike for flat city rides, this bike won't disappoint you. This bike is best womens hybrid bike under 300 dollars.
Carbon or high-tensile steel is used for the frame of this bike. It might not be the most lightweight option but this particular frame excels in terms of strength and longevity. This bike uses the standard 7-speed gearing system. It adapts to rough conditions easily and makes a great choice for riding on tricky terrain.
The low step frame provides unmatched accessibility. Therefore, it makes an excellent choice for riders who can't lift their leg a lot due to age or injury. Plus, it provides better confidence as it's easy to regain balance if needed. That said, it is an ideal choice for urban areas that require a lot of stopping and starting.
The seat height is adjustable so the taller riders have something to smile about. You can adjust the seat height from 34.5 inches to 41 inches using a quick-release post clamp. The bike sports a suspension saddle. The suspension mechanism softens road shock, reduces vibration, and pampers your bottom for enhanced comfort.
Before you can ride this hybrid, there are some components that need to be put together. These include the pedals, seat, front wheel, handlebars, and the rear rack.
Pros
Low-step frame design
Retro-style high-tensile steel frame
Adjustable seat with saddle suspension
Standard 7-speed gearing mechanism with Twist Grip Shifters
Standard 700c x 35c tires
Linear pull brakes
Cons
Few parts require assembling
5. Schwinn Wayfarer Bike
Our Pick
If you think only the high-end bikes perform better on terrain, think again. Budget bikes also don't often compromise on performance. In fact, the likes of Schwinn Wayfarer bike fall in the most affordable category, yet they have a premium feel.
Schwinn steel retro city frame and fork looks very stylish and offers a comfortable ride. It offers two frames and two size options to choose from. And you also have the option to choose from three different colors – yellow, light mint, black.
The Schwinn Wayfarer makes riding on different terrains fun. The 7-speed system of the bike not only makes descending faster possible when you need to but also it makes climbing the hill terrains easy. Plus, using the gear system is easy, so even if it is your first time to plan to ride a hybrid bike, switching from one gear to another should be quite easy.
The alloy brake system works as expected, it is sturdy and not prone to damage. The 700c size wheels are good enough to fit adult riders from 5'4" to 6'2". And it also has front and rear fenders to protect you from splashes. The extra-large elastomer saddle makes your riding experience enjoyable while you also get a classic rear carrier that provides convenient storage.
Pros
Stylish retro frame and fork
Schwinn 7 speed twist shifter
Alloy linear pull brakes
Front and rear fenders
700c wheels
6. Schwinn GTX Comfort Hybrid Bike
Our Pick
As the name suggests, the Schwinn GTX is built for comfort. It is multi-functional and comes in a variety of colors. You will not need to exert yourself much to ride it because this bike is designed for efficiency. It is the ultimate bike that combines a road bike, mountain bike, and cruiser comfort. The bike is perfect for both beginners and riders.
This bike is made of long-lasting materials, so you can expect to ride it for many coming years. The lightweight aluminum frame makes it highly durable. The effectiveness of this bike is on another level as it packs a powerful shifting system that runs between 21 and 24 speeds. Plus, the 700c wheel adds to its unique construction. These tires ease the bike's mobility and balance.
It also comes with a front suspension fork that keeps it safe from bumpy roads. If you are looking for a hybrid bike for daily commute to and from work, this is a great choice. It is priced quite over 300 but not so much that we can't have it on this list.
Pros
21-24 speed Shimano speed
Multifunctional use
Versatile tires and durable front rim
Reliable brakes
Easy and fast to set up
Cons
Tubes are prone to burst in rough roads
7. Retrospec Barron Comfort Hybrid Bike
Our Pick
Many of the best inexpensive hybrid bikes these days try to feature a lot of parts into them but come up short. But when it comes to the Retrospec Barron Comfort Hybrid Bike, it doesn't have much to offer but its parts are of high quality and that's big deal.
You'd be surprised to know that this simple and elegant looking hybrid bike sports a high-quality aluminum frame that's very lightweight and is capable of tackling various terrains. It also comes with fantastic tires that are designed to go through routes that will get you through the smooth and the rough, so yes, even on rainy days, it won't be much of an issue anymore.
A closer look also shows the Retrospec Barron Comfort bike really lives up to the name because it has gear shifters and handlebars that will make you see that it can look like your average cruising bike but feel like you're capable of conquering all-terrain like the mountain bike. All in all, this makes it one of the best bikes for the price you're paying it for.
Pros
Lightweight aluminum frame
Designed for all terrains
Shimano Tourney 21-speed drivetrain
High quality tires
Great handlebars
Cons
Might feel unstable when steering and maneuvering
Buying Guide for the Best Hybrid Bike Under $300: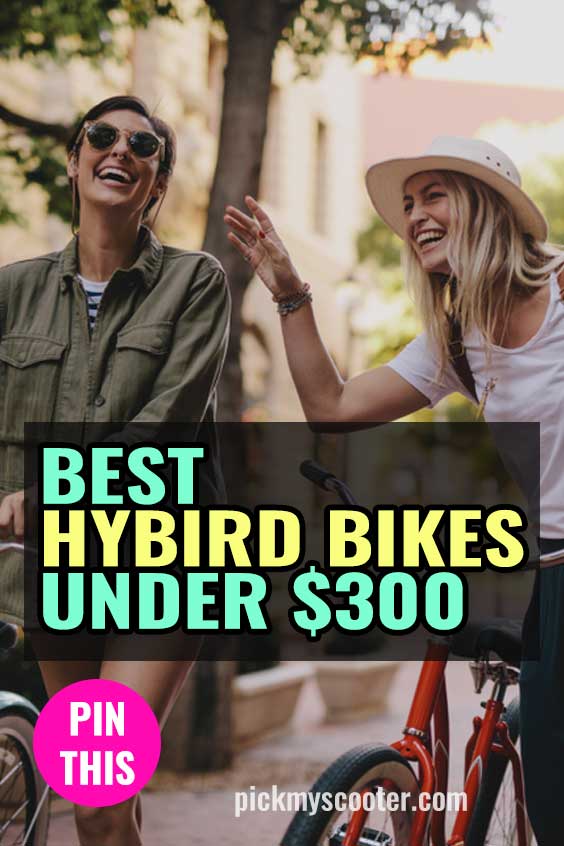 There are a few things you need to consider as well as compare to make a qualified choice between one hybrid bike and another.
The Wheel Size
When it comes to hybrid bikes, this is not a very important feature. But still, you should know that there are two standard wheel sizes for them: one is 26″ and another 700c. The former size is smaller than the latter.
Gears
Hybrid bikes feature 1 to 27 gears depending on the product you purchase. Your gear choice should depend on where you will be riding.
If you are looking to go uphill or on a mountain climbing challenge, then the more gears you have the better. But if you will be riding on a flat trail or smooth terrains, then you do not need as many gears.
Brakes
Mostly, hybrid bikes come fitted with two kinds of brakes: disc and rim brakes. The rim brakes are inexpensive and easy to use but they do not offer the control and stopping power required for stopping a hybrid bike safely.
Therefore, disc brakes are the better option. However, they also come in two types that include mechanical and hydraulic. The hydraulic brakes are automatic while the mechanical disc brakes are manually controlled.
Suspension
You should know that a bike without any suspension is lighter and easier to handle, however, a bike with suspension is much more comfortable. A hybrid bike with suspensions will absorb the impact and keep you comfortable. This is an excellent feature to look out for especially if you are going to ride on rough terrain.
Frame Material
Hybrid bikes come in carbon fiber, steel, and aluminum frames. In this article where we have listed the best hybrid bikes under 300, you will notice that all bikes come with an aluminum frame since it is cheaper.
As compared to aluminum, carbon fiber is lighter and when compared to steel, it is stronger. However, this material is significantly more expensive than the other mentioned metals.
Steel is stronger compared to aluminum, but it is heavier.
Handlebar Shape
When buying a hybrid bike, be sure to check the leave of the seat in comparison to the handlebars. It is better if the seat is further below the bike's handlebar because it will enhance your comfort.
On the other hand, if the seat is higher than the handlebars, the aerodynamic position allows you to ride with more power. However, this position can be pretty uncomfortable, especially if you are not used to it.
Additional Features
If you will be riding on a wet or muddy trail, then you should choose a hybrid bike with fenders to keep the dirt away. A rack will also come in handy when you need to carry some items on your cruise.
FAQ's:
How to choose the right hybrid bike?
There are various things you need to consider before making a decision such as the material, price, aesthetic appeal, tires, wheels, gears, brakes, etc. You can read our buying guide to have a better idea.
What materials are hybrid bike frames made of?
Hybrid bikes frame is made of three types of materials – carbon fiber, aluminum, and steel. Carbon fiber is the most high-end material you can choose for hybrid bikes, however, since we have listed all the affordable options, these bikes frames are made of aluminum.
How many gears should I get on my hybrid bike?
You can get 1 to 27 gears on a hybrid bike. Your gear choice should depend on where you will be riding. It would be better to get more gears if you are planning on riding uphill. But if your bike will only have to deal with flat or smooth terrains, then you do not need so many gears.
Final Thoughts
This concludes our recommendation of the best hybrid bikes under 300. Sure, there are many other options on the market, but these are the top ones. Finding the best hybrid bicycle under 300 is of immense benefit. However, you should remember each bike has its upsides and downsides. So do a thorough research before making a decision. And enjoy the ride.
No products found.
You May Also Like: