A scooter is a great choice for traveling around your neighborhood or town. Cars are great too but they are not as convenient as a scooter. Scooters are a very thin and fun way to travel, you can feel the wind passing by you and can easily find a spot for parking. And in peak commute times, they can get you to your desired destination faster as they are very fitting in the traffic. Scooters are a very useful and economical way of traveling.
Speaking of economical, in our taotao scooter review, we have come up with some great scooters from a very well-known brand- Taotao. These scooters from Taotao are pretty stylish, they can make your traveling very easy and all of that at a very low price. Taotao scooters offer value for money. So without any further ado, let's get into the features of these scooters from Taotao.
At A Glance TaoTao Scooters
---
Top 3 Best TaoTao Scooter Reviews
01. TaoTao ATM50-A1 50cc Scooter
We are going to start our Taotao 50cc scooter review with the TaoTao ATM50-A1. It is a very stylish scooter that allows you to roam freely around your neighborhood or town. It features a 49cc/50cc engine that can power the scooter to run effortlessly with a fully auto transmission.
The 50cc engine is gas-powered and it can propel the scooter to a decent speed of up to 35mph. it's an ultimate transportation choice for you, you can go to work with it or you can wander around your neighborhood. You can also go shopping with it and after shopping, it will also help you with your extra baggage as it also offers a matching trunk which is included with your purchase.
Starting the scooter is also easy, all you have to do is insert the key then twist the throttle and that's it, now you are on your way. And don't worry if the electric start doesn't work, this scooter got you covered as it also has a kick start. You can kick start the scooter if the battery doesn't work.
This scooter is street legal and it is approved by CARB for California buyers and it is also 100% approved by DOT. It's a quite safe vehicle as it can't run at ridiculously high speed but still, it comes with a rear drum brake and disc front brakes for safer and quicker stops.
There is a headlight in the front of the scooter so that you can ride safely at night and see where you are going. And to add more to your safety, it has left and right turn signals
This scooter has two seats for two people to ride together. Underneath the seat, there's a storage space where you can store your necessary items. And after you reach your destination you can park it easily with the help of its kickstand.
Pros
Matching trunk included
Street legal
Electric start
Kick start back up
---
02. TAO SMART DEALSNOW 50cc Gas
This sleek-looking scooter comes in three colors, personally, I like the Blanco white one but you also have the options to choose from green and pink color. Choose the color that would reflect your personality.
This is a 50cc gas powered scooter. It is powerful enough to take the speed of the scooter around 35mph. The 100/60 front and rear tires have steel rims. Scooters are very much smaller than a car so you can ride your way out of traffic easily and when you reach your destination you can park it with its kickstand.
You also get double seats for adults with this model so you and your friend can wander together in the neighborhood easily. And for seating convenience, it has plenty of room for legs. Riding in the low light or at night is also possible with its headlight. And the rearview mirror allows you to see what is coming from behind.
Starting it is very easy, it is fully automatic so all you have to do is squeeze the handle and you are good to go. This scooter also features a storage trunk where you can put your essentials.
This fully automatic scooter is street legal and it is also approved by CARB for California users.
Pros
Fully automatic
CARB approved
Plenty of leg room
Cons
You need license to ride it in some state
---
03. TAO SMART DEALSNOW TaoTao Thunder 50 Gas Street Legal Scooter
Now in the Taotao scooter 50cc review, we are going to talk about the Taotao Thunder 50 Gas Street Legal Scooter. First of all, don't be fooled by its low price, this nippy little vehicle is extremely fuel-efficient. And its low price tag just sweetens the deal.
Its 49cc engine can take the scooter to the top speed of 35mph. It is perfect for use where speed limit might is 35mph. On just 1.2 gallons of fuel, the Taotao Thunder can go an impressive 100 miles, so it cost very low to run.
The sporty black color of this scooter is just amazing. If you are a black lover you are going to love this scooter. And for your essentials, it also offers a matching black color trunk. It features two headlights at the front of the scooter. It also has a kickstand so you can easily park it anywhere.
It is very easy to get this scooter going with its electric start feature and if the electric start doesn't work it also has a backup kick start for your convenience. It is a street-legal scooter. It is also approved by CARB so you California users can also ride it.
The scooter comes mostly assembled but there is still some assembly needed, which might require a mechanic unless you know what you are dealing with.
Pros
Comes with matching trunk
Extremely fuel-efficient
Two headlights at the front
Cons
You need license to ride it in some state
---
Things to Look for When Buying the Best TaoTao Scooter
Buying a scooter online can be a scary process. Modern scooters are usually expensive, they range from anything 500$-1000$ and sometimes more than that. And that's a lot of money to invest over online. But with a scooter, you do tend to save money on things like fuel and such. And as you are most likely to use it for everyday transport, you need to buy a reliable model that won't bail out on you. We hope that we can help you out with this important decision with our scooter buying guide. Here are some key points you need to consider while buying a scooter.
Engine Power
There are various engine sizes for a scooter on the market. Each engine is for a different purpose. A 49cc and 50cc engine is suitable for anyone that is looking to move around the city. It doesn't produce a lot of speed but these engines are great for everyday commuting. These engines can run the scooter around the top speed of 35mph.
Another engine size that we have mentioned in our review is 150cc. This engine is more powerful than a 49cc or 50cc engine. They tend to consume less fuel. 150cc engine can propel the scooter's speed up to 55mph.
Design
Every person has a different taste. Some scooters are slim, long, and thin while others are bulky and stocky. They also come in different colors; some scooters only come in black while some companies offer a variety of colors to choose from. There are so many colors and designs to choose from, you are surely going to find the one that suits your style.
Features
Each scooter is different and they also come with different features. That's why it is important to decide what features you want to have in your future model.
Some scooters come with electric start, which is a great feature as it makes starting of the scooter very easy. With this feature, you don't have to kick start your scooter, all you need to do is twist the throttle.
Some scooters have double seat, some have lockable trunks. But not everyone needs to have all these features available in their model.
A double seat scooter is for someone who wants to drive around together with someone. They are great for family members to travel together. Double seats tend to have long and distinct spacing for both the back and front scooter rider, making the journey safe and comfortable.
In our Taotao scooter review, we have listed scooters with many different features. Choose the one that's feature is more appealing to you.
Safety
The usual scooter on the market has a variety of safety features incorporated within the design. The most common safety features being the mirrors, rear drum brakes and kick start.
A kick start is helpful at times when you are far from home and the battery bails out on you. So at times like that, the kick start will come to your rescue and will get you home quickly, allowing you to repair the battery within the safety of your home.
Most companies also provide scooter warranty and insurance papers with their scooters. This guarantees that you will be able to return a defective scooter that could get you in danger. Of course, for better safety, you need to spend a few bucks for some safety gear, which we will discuss later. And for the sake of your safety, don't forget to go on a vital safety course, especially if you are buying your first scooter.
Street Legal Information
The term street legal refers to the scooters that can be ridden legally on the street. Meaning, the scooter needs to meet all the requirements determined by the state authorities to be allowed on public roads. This usually means that the scooter needs to have specific configurations of signal lights, lighting, and safety equipment to be compliant with some safety standards.
Laws are there to create a better and safe environment. When you are riding your scooter, while there are many rules to follow, below are some of the rules that should be followed:
During darkness or night time, your scooter must be equipped with a red reflector and a white headlight. Similarly, a yellow or white reflector must be on each side.
You cannot leave the vehicle on the sidewalk or path.
You shouldn't pass the speed limit on the public road.
You shouldn't ride on any sidewalk except to enter or leave the property.
It is a must for the driver to wear a helmet while driving.
Before you buy a scooter, it is very important that you know your state's laws on scooters so you are able to ride your new scooter on the streets.
---
Safety Gear Recommendations:
When you are riding a scooter, you must take some precautions to keep yourself and your scooter safe. Here are some safety gear recommendations that you can get for added safety:
Helmet
This helmet from YEMA will keep your head safe and protect your eyes from debris, allowing you to see your way while you are riding. This professional-grade motorcycle helmet is approved by DOT. This exciting fashionable helmet is designed with lots of advanced features. This is exactly what you need for your scooter.
This helmet has an aerodynamic ABS shell, reinforced chin strap, multi-density EPS, and quick release buckle. It will prevent that claustrophobic feeling with its wide field of visibility. Inner lining pads are fully removable as well as washable allowing you to keep it as fresh as new. It has a sun visor system and using it is very easy. And installing and removing the clear visor is also easy and tool-free.
Its fully adjustable ventilation constantly provide light flow of air for the rider to keep him cool and comfortable. Its stylish design will surely catch your eyes, so this will be a great addition to your scooter. Check Price Here
Gloves
These full-finger gloves are made of genuine goat skin material. They are flexible, soft, lightweight and durable enough to last for a long time. And when they are not in use you can lock the right and left glove together with the buckle button to prevent losing them. They have hard plastic knuckle and on the finger, you get foam padding which helps to assure your hand more protection. And for your convenience, it also features touch screen capabilities on the index finger, so you can use your mobile or other devices without removing the gloves. Check Price Here
Glasses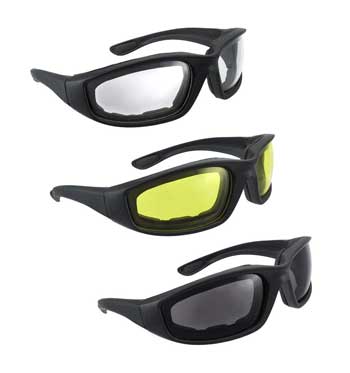 You can get these three pairs of sunglasses to protect your eyes. They are mirror coated UV400 lenses which will provide you ultimate protection against the sun's harmful rays. These are polycarbonate lenses. Each of the lenses is 1 1/4 inches high in the center and 3 inches across. Around the lenses, the glasses have rubber padding to give you excellent comfort and its vents will prevent fogging. Each arm of these glasses is 5 inches long. If you purchase these glasses, you will receive one pair with clear lenses, one pair with dark smoke lenses, and one pair with yellow lenses. Check Price Here
Another Important Accessories You Must Need:
Waterproof Cover
It is really important to protect your scooter from the elements. So you can use this cover to protect your scooter when not in use. Its universal fit design can cover various sizes of scooters. It is made of 210D OXFORD fabric, which is water repellent and non-abrasive as well as super soft and lightweight. This cover will protect your scooter against dust, rain, heat, and other rough weather conditions with top to bottom coverage.
It is designed with 2 windproof buckles and it also has 2 aluminum lock holes, which will allow you to lock your scooter safely. You can keep the cover in the storage bag and carry it anywhere and use it anywhere you need. Check Price Here
---
FAQ:
Question: Which 50cc Taotao scooter is the best to buy online?
Answer: Taotao's ATM50-A1 50cc gas powered scooter is one of the best 50cc scooters to buy online. It is street legal. And it has 5 color options for you to choose from. It's a great bargain for the price and this is one of the most reliable scooters on our list.
Question: Is a 50cc scooter street legal?
Answer: Yes, is the short answer. Nevertheless, it's better to check the specifications of the model in the description box.
Final Thoughts
Thanks for being with us till the end. We hope we were able to help you with our TaoTao scooter review in your quest to choosing a new scooter. TaoTao is a very well-known brand and they offer scooters in low price tags. And don't forget to take the necessary precautions while riding a scooter. Having the wind touch you is very exciting but your safety is above all. Follow the rules of the road and don't forget to check the rules of your state before buying your new scooter. Drive safe.
---
You May Also Like
Best Scooter Helmet Review: Top 10 Affordable Picks for Your Ride
Ancheer Folding Electric Bike Review
Best Swagcycle Review [Expert Opinion]
The Razor Pocket Mod Electric Scooter Reviews