Today we are going to look at and again compare the two most common workout machines: the elliptical trainer and the exercise bike. As such, I want you to pay close attention so that you make the right choice for your needs.
If you have been around the workout perimeters for long, you probably know what to go with. But what happens to someone who is new to the scene? That's what we are looking at today in our exercise bike vs elliptical trainer post.
What You Should Ask Yourself
To make the right choice between the two workout machines, you'll have to start by asking yourself the following questions.
Which one of the two is more effective?
Which one is best for routine workouts?
Which one helps you to lose weight faster?
Which machine offers the best workout features?
In so doing, you'll realize that it's a very hard call to make. However, with our comprehensive analysis, you'll easily choose a workout machine that fits your needs between the two models here.
Uses of the Bikes
The reasons why many people are confused about the exercise bike vs elliptical trainer is because they double up in most of their uses. Performing the same function (cardio fitness machines) can easily leave you when you are spoilt for choice. These uses include:
The bikes can be used for both upper and lower body workouts.
They are ideal for improved endurance (they can sustain physical efforts for long)
Both are ideal for cardiovascular system training
Their workouts are safe and ideal for the body
They can be used for the progressive whole-body workout routine
Great for weight loss and boosting immunity
As such, it is safe for anyone to say that both these machines are ideal for whole body workout routines. No machine between the two is better than the next. The only thing is that they are unique in their own ways.
NOTE: Both bikes can be used for the things that we have listed above. That's why we need to look at the pros and cons of choosing a model that suits your needs. This is what we will discuss next.
Exercise Bike vs Elliptical Trainer: The Pros and Cons
So what are the pros and cons of the exercise bike vs elliptical trainer? Well, in line with what we have seen, we can give credit where it is due as such here are the pros and cons of each of these machines.
Exercise Bike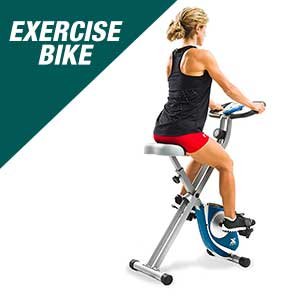 These are popularly known as the stationary bike and has some cools benefits too. Here is what you should know.
Pros
Also known as the comfort bike allows you to sit while working out.
Doesn't demand the use of the whole body when working out.
Ideal for seniors and people who need joint rehabilitations
Doesn't put a lot of pressure on your joints, you can work out when seated
Effectively targets your thighs, quads, hamstrings, buttocks, and calves.
Offer a form of the low-impact exercise.
Cons
Focuses more on the lower body
May cause joint pains since you have to step on pedals
Elliptical Trainer
The elliptical trainer is also known as the cross-trainer. It has some cool benefits. Let's take a look at its pros and cons.
Pros
Targets more of the upper body including the torso
Will also offer a form of the low-impact exercises (you can retain one foot on the ground)
Bets for the torso, chest, glutes, back muscles, arms, and stomach
Offers zero impact on the joints – designed to alleviate stress on joints
No need to step on the pedal – so no force or pain is exerted.
Cons
Does not allow you to sit when working out
You'll have to maintain a standing position.
The machine is more demanding than the exercise bike.
It is said that elliptical machines have greater fat burning capacity than the exercise bikes. Even so, that depends more on the efforts that one puts on their workout. And the chances are that the machine which you love the most allows you to work out more and in turn burn a lot of fat.
Conclusion
To sum it all up, looking at the exercise bike vs elliptical one thing is clear. The choice of workout machine that you make here depends on your fitness goal. If your fitness goal is simply to tone the muscles on your lower body, you can focus more on the ideal option.
The same applies to anyone who wants to tone the muscles on their upper body. Even so, you should understand that both machines have some touch to training the whole body and as such, you can make your choice in the same line.
Read More