A skateboard is a kind of sports equipment that is used for skateboarding, according to Wikipedia. A longboard is a type of skateboard which is longer than skateboard and has a variety of shapes. Quest is a well-known longboard brand, which offers longboards with numerous style and eye-catching features to its users.
The brand fulfills the expectation of all riders, from beginners to experienced skaters, and also helps to reduce the usage of vehicles. Quest longboard review that is uttered in this article will help you to consider and choose the right one before purchasing a longboard. There are a few numbers of longboards that are brought into the market by Quest. Let's look at some of the best quest longboards.
Our Favorite Choice Best Quest Longboards
Model
Price
Size
Wheel
Size
Bearing
Weight
Quest QT-NSC44C

Check Price
44"
70mm
ABEC 7
9.9 Pounds
Quest QT-LEC41C

Check Price
41"
70mm
ABEC 7
8 Pounds
Quest QT-NRS34C

Check Price
34"
70mm
ABEC 7
7.01 Pounds
Top 3 Quest Longboards Review For 2023
1. Quest QT-NSC44C The Super Cruiser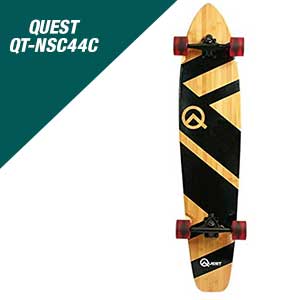 Features of Quest Super Cruiser
The quest cruiser is full of authentic components. The features are given below in detail.
Beautiful artisan bamboo decks make the brand well-known because it was the first time that a brand brought a bamboo deck in the market. It was a challenge to launch such a model. But because of the bamboo deck, the longboard can tolerate more drops and weight. Besides, it is more durable and unbreakable because of using the bamboo deck.
Wheels are always occupying an important part of longboards. The wheels of quest super cruisers are very eye-catching and also meet the satisfaction of the customers. 70*51mm 80A PU wheels make the longboard stable and durable, which ensure smooth riding. Wheel bite occurs when a wheel comes into contact with the deck during a turn. Polyurethane wheels of the longboards help to prevent wheel bites.
The trucks of quest super are stronger and stable enough. The trucks are so large that it can avoid wheel bite. The trucks are rugged and lightweight 6-inch aluminum trucks.
The super cruiser longboard has high-endure bearings. Precision ABEC 7 bearings with 4mm hollow riser bring smoothness in the path.
The size and design made it suitable to ride. Balancing on the longboard is also quite easy. The 44-inch longboard is helpful for beginners. It is designed in such a way that you can keep the balance even on an uneven surface, such as downhill.
Pros
Affordable price
Lightweight
High durability because of double element deck
Wheels have wheel bite resistance
Easy to balance and turn
Well built, stable, and sturdy
Trucks are so stable that newbies can get a good grip
Suitable for beginners and also for skilled riders
Cons
Trucks are heavy in comparison
Bearings are slow
Large size may create a problem for beginners
Too stiff
Not suitable for kids and female riders
2. Quest QT-LEC41C California Skateboard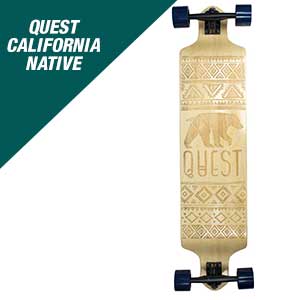 Features of Quest California Native Spirit Skateboard
California Native is a sturdy and robust skateboard because of its 7 Ply all cold Climate Hardwood Maple Deck. Maple is known as one of the strongest woods. Though it is very light weighted, it increases the durability of the longboard. 40 inches deck carves while cruising.
The diameter of the wheels of the California Native is 70mm, and the wheels are made of polyurethane. The wide wheels give the opportunity to keep balance and quickly accelerate. Skaters can perform in both smooth and rough terrain perfectly using these wheels.
The trucks of California Native skateboards are 7 inches rugged aluminum and reverse kingpin. The trucks are so strong that it can hardly break or bend. They also help you to take sharp turns.
The precision ABEC 7 bearings with a 4mm hollow riser make the skateboard strong, and the bearings also increase its tolerance level. Each component of the bearings has the right material, which makes the skateboard durable.
The size of California Native is 41 inches and also very light weighted.
California Native Spirit Skateboard is one of the best skateboards. Like all longboards, it has some advantages (pros) and disadvantages (cons). Some of these are given below.
Pros
Sturdy and strong
Easy to lean and push
Easy to footbrake on
Suitable for heavy riders and also for beginners
7 Ply hardwood Maple Deck increase its durability
Easy to control for its lightweight
7-inch aluminum reverse kingpin trucks help to balance while riding
Precision ABEC 7 bearings
Great for smooth sliding
Great for high speed
Easy to handle
Attractive appearance
Cons
Only one color is available for this model. So, there is no option to choose.
During the ride, it is unresponsive
3. Quest QT-NRS34C Rorshack Complete Longboard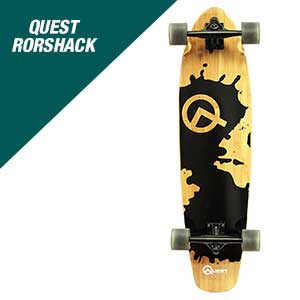 Quest Rorshack Bamboo Longboard Features
Quest Rorshack longboard is a cheap board, which is affordable for the new riders who want to buy a decent longboard with a considering price. It is quite good for beginners but not suitable for advanced riders or professionals.
The hybrid deck is the best feature of this longboard. The deck is built with bamboo and maple wood together. The bamboo makes the longboard light, robust and flexible when maple wood makes it inexpugnable. So it is easy to carry from one place to another. It gives you control over the board. It can bear huge pressure. You will be impressed by the deck of this longboard at first sight.
Before purchasing a longboard, everyone has to look at its wheels carefully as it is very important for skating. The wheels that are used in Rorshack bamboo are polyurethane 70*51mm wheels. 80A is the hardness rating for the wheels, which indicates that these wheels are pretty soft. So you can quickly decelerate. The design of the wheel also ascertains no wheel bite, which is a common problem for longboards. But the diameter of these wheels is smaller than many other longboards wheels, so one is able to accelerate faster on this longboard.
In Rorshack Bamboo longboard, they used 6 inch rugged aluminum trucks, which are good enough to ride. But these trucks have inferior quality, so you can upgrade trucks to get better service.
The bearings used in the Rorshack bamboo longboard are also ABEC 7 bearings, which can handle the speed of the longboard more easily. If you have any problems with its bearings, you can upgrade it on your own.
The longboard is 34 inches long, which is smaller than a standard longboard. It is not so heavy. So you can carry it with you anywhere you want. You can enjoy a comfortable ride on it.
Let's see some pros and cons of this longboard.
Pros
Bamboo and maple wood made hybrid deck
Easy to slow down
Easy to carry
Better one for beginners
Low price
Beautifully crafted
Cons
Trucks of the longboards might need changing
Bearings might also need to change
The longboard is quite stiff
Why You Choose Quest Longboard?
Reviews
Quest longboards are well-known all over the world because of their appearances, accessible price, and tremendous performance. If we see the ratings of the users on Amazon, we can see that most of the products have earned an average of 4.5-star rating out of 5 and also so many compliments. Some of them even achieved an average of 4.6 stars.
Riding Style
Riding on longboards is quite enjoyable for skaters. Quest longboards may offer you thrilling experiences. Whether you are making free rides, uphill or downhill, riding on an uneven road, you can make different riding styles by using a quest longboard easily.
Design /Color
Quest longboards are simple but immaculate. The designs and colors receive people's admiration. These kinds of longboards are appropriate for beginners and also for advanced riders.
Deck
Almost every quest longboard is made with a multiply hardwood maple deck. Because of this feature, quest longboards can bear a lot of pressure, and also, they are durable and flexible, which allows fast and rough riding.
Wheels
The wheels of quest longboards are polyurethane, which remained untarnished in all weather conditions. The wheels help to prevent wheel bite.
Truck
Most of the quest longboards come with rugged and lightweight 7-inch aluminum trucks. Some of the longboards have 6-inch trucks, which are stable enough. The trucks are so large that the riders shouldn't have to worry about wheel bites.
Bearings
Quest longboards have high precision for which they are able to bring smoothness in the path. These bearings also include 4mm hollow riser. For this reason, every quest longboards provide smooth riding.
Conclusion
Quest is a famous longboard brand, and quest longboards are quite popular in the market because people can buy a longboard at a low price, which is durable, sturdy, and appropriate for all kinds of riders from beginners to experienced riders. Besides, one can ride in the city, downhill, uphill, carving according to their wish and which are easy to accelerate.
These longboards are also very stunning and help you to take smooth turns, narrow turns, etc. After reading all the above, you can choose one of them according to your personal preference. By choosing the right longboard, you can ensure safe riding and minimize accidents. I hope that this information will help you to make the right decision.
Read More