A perfect longboard can be the most attractive transport sports option to the people. And, Volador Freeride is one of the best longboards in the sport world.
Volador Freeride Longboard got huge popularity due to its quality and performance. The board gives you a stable ride, no matter whether you're a beginner or an expert. For stability strength and durability, you can pick the Volador Freeride Longboard.
While before purchasing, you should know this board offers? Below we have discussed the Volador Freeride Longboard review so that you can make your own decision.
Specifications Of Volador Freeride Longboard
| | |
| --- | --- |
| Model | Volador Freeride |
| Length | 42 Inches |
| Deck Width | 9 Inches |
| Deck Material | 8-ply maple wood |
| Deck Style | Drop Through Design |
| Wheels | 78A Polyurethane wheels |
| Wheelbase | 34 inches |
| Trucks | 7" Reverse kingpin aluminium |
| Bearings | ABEC-9 bearing |
| Durometer Hardness | 78A |
| Weight Limit | 250 Pounds |
| Board Weight | 8.4 Pounds |
| Price | Check Latest Price |
Useful Features

Multiply maple-made durable deck.
High rebound polyurethane wheels.
Adjustable reverse kingpin aluminium trucks.
High rating ABEC-9 bearings for precise performance.
The Good
The symmetrical shape of the deck provides a stylish design.
The longboard has multiple design options for the deck.
Quality artwork of the deck gives a beautiful appearance.
Exceptional truck and wheel quality for an easy ride.
Superb construction delivers the most outstanding durability.
Quality artwork of the deck gives a beautiful appearance.
The Bad
Sometimes need maintenance.
---
Things To Consider
Firstly, you need to think about the level of riding skill before purchasing any longboard. In this Volador Freeride longboard review, we are assuring you about the qualities of the item. Indeed, the board is great for any beginner. It allows a proper riding and cruising experience. Whereas more experienced longboarders may prefer different styles.
Another point to consider is what do you want with the longboard? To perform race downhills, buy a downhill one. For doing crazy tricks, purchase a freeride or freestyle board. Riding around the local street to cross from one place to another, you should go for any cruiser type of longboard. Volador Freeride is one of them.
Finally, think about the board parts you like. The user can replace the bearings or the wheels. Sort out the additional costs involved: Volador longboards have quality parts. Many vital components make it different from others. Adjustable bearings can perform properly under heavyweights. Plus, it turns incredibly for the durable wheels.
---
Details Volador Freeride Longboard Review
Volador Freeride Size
As an artisan board, this Volador one has a decently large deck. With a length of 42 inches, it offers adequate space for a person to move it freely. Whether you are a toddler or a regular rider, you will get a pleasant riding experience. The longboard is a masterpiece to host the users regardless of any bodyweight.
Volador Freeride Deck
The Volador Freeride board offers a larger deck of 42 inches. Unique symmetrical shape of the deck improves the entire gripping process. Moreover, it will prevent wheel bite. You can feel a smooth riding experience on the roads. Sturdy grip tape feature is also available with the product. And, 9-inch width offers huge space for the feet.
Volador Freeride Deck Material
In terms of construction materials, the longboard comes with top-quality ply maple wood. This hard rock is enameled with epoxy glue. All of these offer a reliable and durable experience throughout the entire year. Additionally, the cambered deck allows magnificent maneuverability. Due to the superb flexibility of the deck, shock absorbing capacity is high. So, why not pick it up!
Volador Freeride Wheel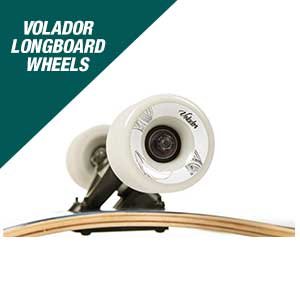 The wheel provides a faster ride. Besides, good wheels absorb the shock over bumps or cracks. The polyurethane wheels of this longboard are great for speed and effortless movement. These awesome materials are bouncy and grippy. Plus, the wheels are made of durable steel. Therefore, we can expect them to last many years without showing any trace of wear.
Volador Freeride Trucks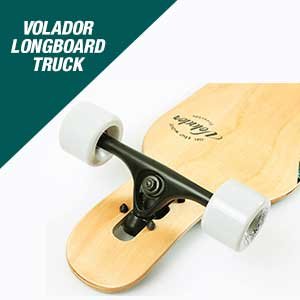 Probably, the most exciting component of the Volador longboards are the trucks. They have a 7 inches aluminum construction with a reverse kingpin design. Interestingly, you can properly adjust them to 45 or 50 degrees. These trucks provide outstanding maneuverability. For making turns to ride freely, you will be able to perform on the curved roads.
Volador Freeride Weight Capacity
Without any problems, you can expect the board to withstand 250 pounds of body weight. Although, it may not be the sturdiest longboard available in the market. Nevertheless, a tall person with overweight will find the Freeride board as a complete cruiser. This riding piece does not break easily. Undeniably, the longboard is an ideal product to purchase.
Why Should You Buy Volador Longboard?
All of the critical features of the Volador Freeride longboard offer a wonderful riding pleasure. Whether you are a beginner or an experienced user, this product is equally preferable. It is a best seller and a very popular model from the manufacturer Volador.
Having a classy naturalistic design with exquisite construction, the board will take smoothness to the next level. Magnificent maple wood quality build provides a great aesthetic look. In short, you will be able to use it for any form of style. Still, it gives the same maneuverability with pretty sturdiness.
Frequently Asked Questions:
Question: Is Volador a good longboard?
Answer: Volador is a popular name in the longboarding field. Chiefly, the manufacturer company tries to build products for beginners. Although, experienced users should buy higher quality products if they have a desire to excel with a new style. Because dedicated brands will provide additional features with more advantages.
Question: What does freeride mean in longboarding?
Answer: In the longboarding field, Freeride means a pattern of downhill boarding. It is more technical and trick oriented. But, less organized compared with downhill racing. Also, speed is decreased for many variations. Some skills are required to perform freeriding. They are hands down slides, stand up slides and foot braking.
Conclusion
We have outlined the Volador Freeride longboard review. It is a well-rounded riding companion available in today's modern world. The basic design is beginner-friendly. The aluminum trucks are quite strong to provide longevity. The best wheels ensure comfort in moving.
With multiple colors and different styles, the longboard is equally perfect for beginners, intermediate riders or even kids. We hope, after reading the post, you will check out more about the Volador Freeride longboard.
Happy Riding!
---
Read More
Longboard For Dancing
Longboard For Commuting
Cheap Longboards Buying Guide
Quest Rorshack Longboard Review