Every cyclist will prefer their own distinctive needs. They want to use the bike as a way of daily commutes. Besides, the vehicles are great for travelling short distances. But, you may search for more versatility in any bike. Apart from the road bike, standard cruiser or another bike, you should consider a hybrid bike to be a wonderful choice.
Hybrid bikes offer the most useful characteristics and features of both mountain bike and road bike. They will bring the proper power, solid performance and higher speed. There are many decision points if you want to buy a new bike. In today's brief post, we will talk about what is a hybrid bike. This article can bring some new information along with providing the basic knowledge. Let's start.
What Is A Hybrid Bike
Hybrid Bike is a combination of mountain, touring and road designs. This general-purpose vehicle can be able to tolerate a broad range of biking applications and conditions. Their stability, ease as well as comfort of use increases their popularity with casual riders, novice cyclists and commuters. Hybrid bikes employ thinner wheels, smooth tires and lighter weight.
Hybrid Bike Features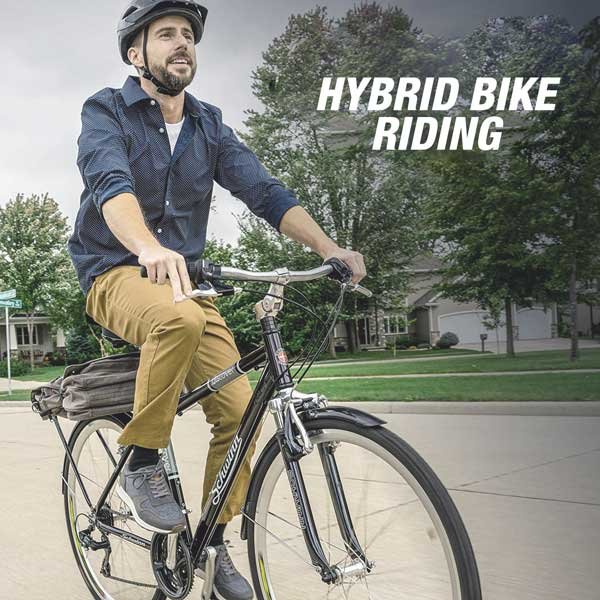 To find out what a hybrid bike is, first know which kind of bike is suitable for you. The initial consideration is understanding the pattern of your riding. Whether you want to commute in the town or take a ride into paved paths, the choice is up to your hands. You may even use it for a regular workout on the smooth streets.
Way before purchasing the hybrid bike, you should know about the proper details of the features. Once you learn this, you will be able to decide on a specific feature of the bike. You should think about the wheel size, bike gears and brake types. Besides, the handlebar shape materials of the bike frame should be notified properly.
Wheel Size
700c. : These are the ideal measurements of most of the hybrid bikes. Nevertheless, wheel size will never become a problem.
26 Inches: Apart from the 700c, you will find some bikes which are equipped with 26 inches wheels. These are smaller in comparison with the 700c wheels.
Gears
Hybrid bikes have different types of gears. The range varies from 1 to 27 or above. Simply, the most vital point is the fitness level of hybrid bikes. Plus, you should always think about the riding terrain. If you have to ride in the hilly area, climbing will become very challenging. So, you need more gear options.
If you ride in the flat terrain only or as a strong cyclist, you don't require many gears for powering up the hill. With fewer gears, the bike will stay lighter. Some bikes have one speed only. They are called single-speed hybrid bikes. They have a different freewheel mechanism that allows them to coast like the standard bike.
Bike Suspension
No Suspension: Some hybrid bikes have not included the suspension. And, suspension forks will add weight. This can make bike pedaling less powerful.
Front Suspension: Generally, urban hybrid bikes have front suspension forks which will help to absorb the impacts of the front wheel. So, this will smooth out your ride on the rough streets.
Brake Type
Rim Brakes: Some hybrid bikes are equipped with rim brakes. They feature pads that can grip into the rims of the wheel. Rim brakes are more economical than disc brakes. Also, you can easily replace the worn pads. The drawbacks are wearing out of the rim of the wheel. Therefore, you will be required to replace the wheel.
Disc Brakes: They have featured brake pads that grip into the brake rotor. These amounted to the hub of the wheel. Disc brakes have two versions, one is hydraulic and the other is mechanical brake. They provide stronger and progressive braking effortlessly. Moreover, these brakes give consistent braking facilities in all conditions. They are cheaper too.
Materials Of Bike Frame
The bikes are usually built with aluminum. Although, steel and sometimes carbon fiber is used for making the bikes. Each material provides different benefits and drawbacks.
So, you should understand your priorities to decide accordingly.
First and foremost, aluminum is strong, stiff, light and affordable. It has the latest construction techniques that will help to absorb the shock. The second build material is steel. It is heavier compared to aluminum.
Nevertheless, the strength and flex amount offer a smooth and comfortable ride. While the other build material is carbon fiber. It is lighter than aluminum. But, it is stronger than steel. Although, it is more pricey than both. For this reason, it is a popular choice among bike lovers. Some bikes may feature a seat of carbon fiber.
Handlebar Shape
When you want to buy a hybrid bike, compare the seat level with the handlebars. Usually, the seat is situated below the bike's handlebars. This facility will provide more comfort during the ride. Mostly, hybrid bikes are built up in this way. However, this will create an aerodynamic position for the rider. So, they can apply additional power on the pedals.
Conclusion
Hybrid bikes can bring newness in life. Today's post is all about what is a hybrid bike and the basic knowledge. Moreover, you should always choose the right one which fits you. Remember, bikes are built with different materials. Initially, you must start with suitable solid frame sizes.
Many manufacturers provide the size charts with the height range. Nevertheless, you should always have a test drive. Happy biking with the hybrid variety!
---
Read More
Hybrid Bikes Under $200
Hybrid Bikes Under $500
Hybrid Bikes Under $1000